Presentation
Rationale, Roles and objects to be manipulated are not sufficient to implement a life cycle. In fact, the portal philosophy is explicitly build around the following life cycle:
In order to begin such a life cycle, it is necessary first to ask questions and in this scope it means for Problem to provide problems
Then there is a need to provide answers, it means for Solutions to provide Algorithms, including architectures able to answer the question asked by the above problem.
Last but not least, there should be away for those asking questions to assess for themselves the so-called answers.
These steps are described in the following figure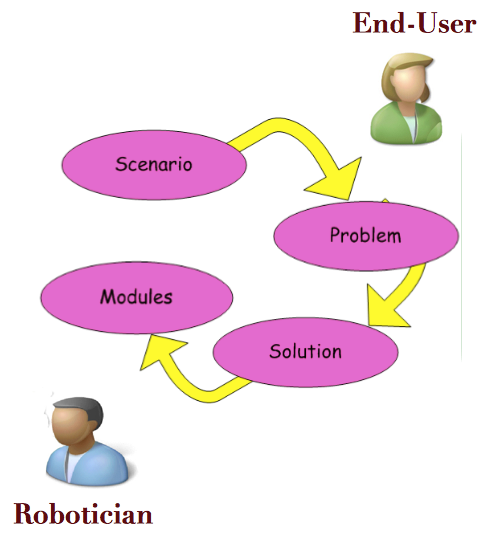 As can be seen Scenario and Problems are in the hands mostly of the end-users. An end-user is often a company not knowing how to solve a question but knowing what this question is. It is in our context up to roboticians to provide answers to these questions providing Solutions and going to the extent of creating reusable modules for the community to consider at large.
Portal and life cycle
As can be seen in the following picture, the RobotML portal implements as it is this life cycle taking into account management of web account (authoring, reserved space on the portal, ...).
RobotML platform and life cycle
As can be seen on the following picture a specific customisation of the platform help system has been created that implements the life cycle. The user will be able to follow it and she / he will be guided through the different steps implementing each of the steps of the life cycle.